Last Updated on September 18, 2022 by NetworkPalava Admin
Learn how to convert Glo bonus to data, how to convert glo Amebo bonus or 5x bonus to data that can be used to browse the internet.
Users of Glo are complaining a lot about the free airtime bonus they received. Yes, they claimed that they couldn't surf the internet using their airtime and that they would be happy to convert their Glo bonus to data as a result.
It's not a problem. I hope you get cleared on converting free bonus to data on Glo Nigeria.
Converting Bonus To Data On Glo
I am aware that you are struggling with the same problem; you want to know if you can use the Glo bonus as a data bundle to access the internet.
It's not just you. Many additional users are looking for a straightforward way to convert Glo bonus credit to data before it expires.
If you're a frequent user of Glo's network, you may now receive a bonus. Yes, you will learn how to use the Glo data bonus step-by-step; this has been repeatedly confirmed.
How To Convert Glo Bonus To Data
In this section, you'll learn different methods to transform Glo bonus credit to data and start browsing the internet with it.
Some of my friends on telegram also asked a question related to "how to convert Glo 5x bonus to data". If you have a similar question(s), stay tuned as the knowledge in this post answers all.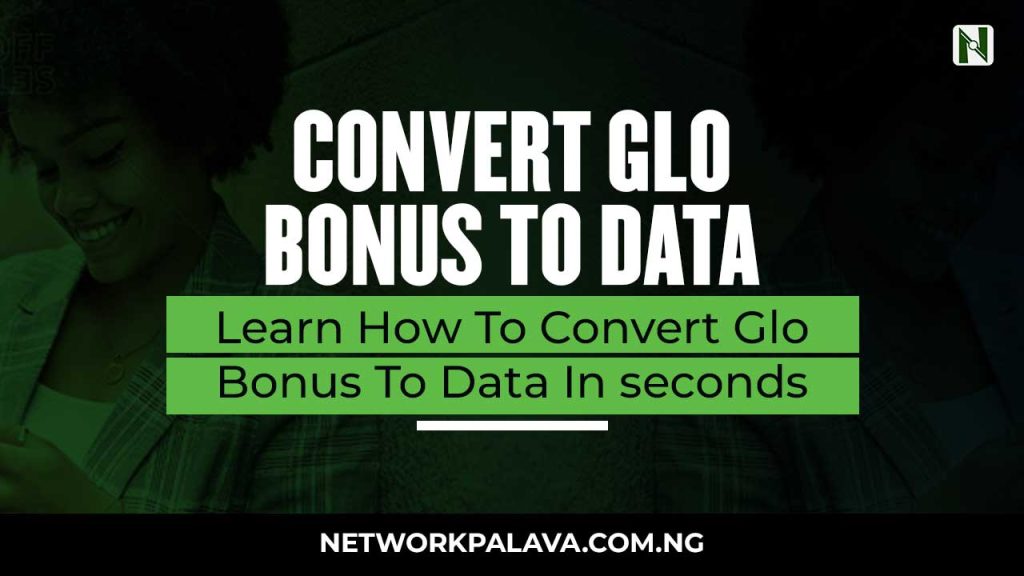 Hey! Don't Miss The Code To Convert Glo Points To Data & Airtime.
Note: Following the IVR instructions doesn't guarantee that you'll successfully convert bonus data to normal data on Glo.
Have You Learned The New Method To Upgrade Your Glo 3G SIM to 4G LTE? Learn It Now!!!
Method 1: Call This Number
Simply dial 121 to call Glo Customer Care and lay out your complaint. Make sure you dial the number on the phone number that you want to convert glo bonus to data on.
Before you have the chance to chat with a Glo Nigeria agent, follow the directions exactly. The Rep will show you the simplest method for converting Glo bonus credit to data.
After calling customer service, there is no assurance that you will be able to transfer the Glo bonus to data.
Make Other Pay For Your Calls! See The Glo Pay For Me Code here…
Method 2: Go to Glo Service Center
Visit the Glo Service Center if you'd rather have a face-to-face conversation than voice calls. At least you can talk to a member of the Glo Staff directly, explain your situation, and then you're ready to go.
You can search and ask Google to reveal the Glo Office Near you.
They can also guide you on how to convert Glo youtube bonus to data on your phone. There's more for you below…
Learn How To Stop Auto-Renewal On Your Glo Line Now!
How To Use Glo Data Bonus
Glo Nigeria always states it in the periodical SMS they send to you from time to time. Before you proceed to read more on how to convert bonuses to data on Glo, let's take a closer look at this.
How do you use the Glo data bonus?
It's simple. Read the guidelines on the Text Message sent to you by Glo.
Yes, you should see the instructions on how to use the data bonus, when to use it (date, time, day, or night), and the data volume you are allowed to consume.
Have You Learned How To Activate Glo Night Plan
Related:
how to deactivate Glo 5x account
Glo Amebo code
Glo 6x recharge code
Glo 8 times recharge
how to convert Glo airtime to data
how to convert Glo card to data


What's About The Glo Bonus Code?
One of the well-known USD that gives you access to fantastic deals is the Glo bonus code. I'm talking about reasonably priced internet data bundles. Glo yakata and the Glo 5x recharge are enticing plans to look into.
I know this post is created to help you convert Glo bonus to data but think you'll find this information useful as well.
So the way to go about this is to;
You can find out information about your bonuses and their expiration date by dialing #122#. All of your bonuses, both local and foreign to Nigeria, would be included in this.
If you get a popup message like; "Dear Customer, I appreciate your effort. There isn't a cheap data bonus offer for you right now if you receive the message "You do not have an offer at this time, please try again later."
How To Convert Glo Bonus To Airtime
This request also got my attention. Converting the free airtime bonus you got from Glo to airtime. Hmmm…
Here's what you must know about converting Glo bonus to data or normal airtime.
Glo purposefully offers free bonuses.
Contrary to what some online experts claim, you cannot mislead them.
There are various limitations on the free airtime bonus, such as calls only.
You might only be eligible for data bonuses that are confined to social media or a specific browser and have a data volume cap.
FAQs – Frequently Asked Questions
How to convert airtime bonus to data on Glo?
Determine the type of bonus you received. You cannot purchase a data plan or use it to browse if your usage is restricted to calls only.
A bonus for airtime that has no restrictions can be converted in the interim. In this instance, dial *777# to purchase an Airtel data plan.
How Do I Get Glo Awuf Data?
Glo updates active customers on new deals periodically to keep them informed. You should obtain it if you're active.
Now, see the latest Glo Awuf 200 For 1GB code here…
How do I transfer Glo bonus airtime?
I don't believe there is currently a way to transfer bonus airtime on Glo. However, you can learn how to share airtime on Glo here…
Can I convert Glo data to airtime?
You can trade with a pal. Yes, give someone else your Glo data and gather the equivalent. On occasion, the customer could consent to pay less than anticipated.
How do I recharge my Glo bonus?
The Glo bonus is only used to complete tasks that are specified. make sure you read the explanation for each free gift that is offered to you.

It could be for domestic or foreign calls. A bonus is nearly tough to recharge.
Have You Converted?
I think you're getting the idea now, how it works. If you need additional clarification, feel free to ask a question below.
That's all you need on How To Convert Glo Bonus To Data.
Read more related guides below: