Last Updated on September 16, 2022 by NetworkPalava Admin
Learn more about the Airtel freedom plan. Get the migration code, benefits, bonus offer, how to deactivate, opt-out, and many more…
Amongst you, there's this person that likes making calls. Yes, I have about two (2) of these kinds of persons who prefer calls, to browsing the internet.
Now, the freedom plan was introduced to serve you unending benefits for calls and sms.
Let's proceed…
How Does Airtel Freedom Plan Works?
People keep asking how the Freedom tariff plan works.
This tariff plan is designed for callers. That's those who prefer making calls.
However, if you're an internet geek like me, the Smart Trybe tariff plan is a good idea.
Since you open this post, you're going to learn more about the Airtel freedom tariff plan. In case you're not aware, Airtel is amongst the top network providers in Nigeria.
They've got the heart of many, by providing great call tariffs and cheap data plans for browsing the internet.
Airtel freedom is one of those plans that helps you enjoy cheap call rates. No jokes, there are more tariff plans on Airtel with unlimited benefits. For your information, this is not the first voice plan from Airtel.
Learn How To Use The Airtel YouTube Night Plan Bonus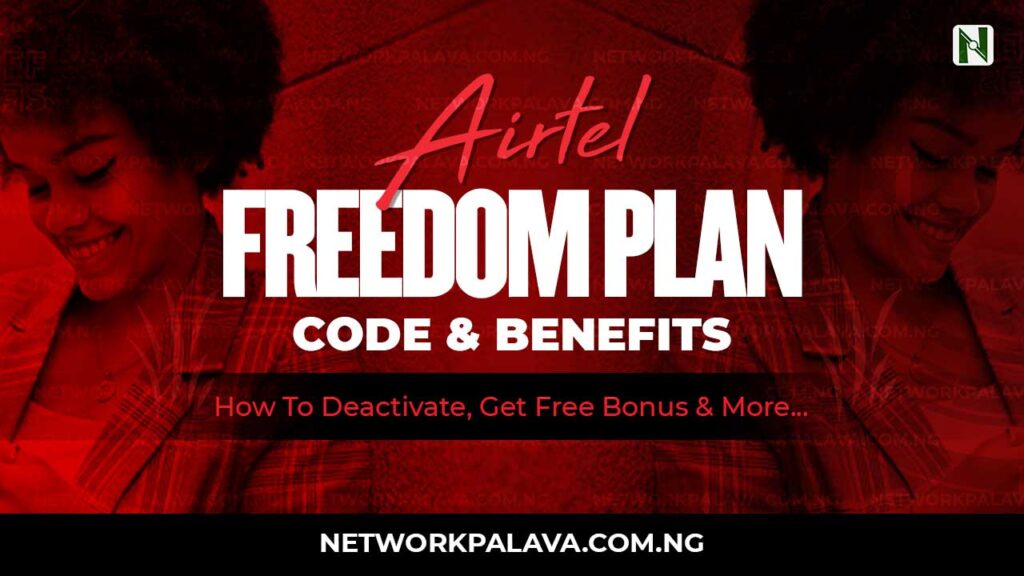 Airtel Freedom Plan Migration Code
Airtel freedom plan code is *152#. That's the quick code though. You can migrate to the Freedom plan manually.
How do I Migrate to Freedom Plan?
Simply dial *121* to bring up the Tariff plan menu.
Reply '5' to select 'Billing & Tariff'.
Then, reply '3' to select 'Freedom Plan' from the list.
Immediately, you'll get a successful message from Airtel. This message gives you insight into your new tariff plan.
Now, take note of this: Migration is free. But, if your tariff plan is less than 30days, you'll be charged 100 Naira only for migration to Airtel Free dom plan.
See The Airtel 300 For 1.5GB Data Code
Airtel Freedom Plan Benefits & Bonus
If you're looking for the benefits in the freedom tariff plan on Airtel, then read them below:
Airtel Freedom Plan Call Rate is 12kobo per second (12k/sec). At this rate, you can make calls for long hours. Yes, without worries about extra charges.
You can make calls to all local networks in Nigeria.
Four naira (N4) only is charged for SMS.
Don't Miss The Airtel DOUBLE Data Code To Enjoy 2X EveryTime
How To Opt-Out Of Airtel Freedom Plan Package
There's no direct method to opt-out or deactivate the Freedom plan. However, there's a simple way to do this.
You are to change the Airtel Freedom plan. And, how can you do that? Follow the guidelines below:
Open your Phone Dialer app
Simply dial *121# and wait for the pop-up menu.
Now, reply '5' to select 'Billing & Tariff'.
From here, migrate to your desired tariff plan.
That's the code to deactivate Airtel freedom plan via ussd.
See The Best & Cheapest Airtel Tariff Plans In Nigeria
How To Migrate To Airtel Freedom Plan To Smart Connect
There's no official code to migrate from Freedom package to Airtel smart connect tariff. You can migrate to smartconnect while using the Freedom voice package.
Related:
Best Airtel tariff plan for data & Calls

Frequently Asked Questions
What is Freedom plan?
Airtel Freedom tariff is a package introduced by Airtel. It helps you save money while making calls. Yes, you make calls at the rate of 12kobo per second (12k/sec) and send text messages at 4Naira per SMS (N4/sms).
How can I activate the Airtel Freedom package?
Simply dial *152# to activate the FREEDOM plan. Alternatively, dial *121#, reply '5' to select 'Billing & Tariff'.
Now, reply '3' to activate 'Freedom Plan.

Migrate is free for first.
What's The Result?
At this point, I guess you know the key things about the Airtel Freedom plan. The post includes the migration code, benefits, bonus packages, how to deactivate the Freedom plan, and other useful information.
Now, what's the result you got? Tell us in the comment section.
Read More Helpful Guides Below: